FIFA 14 INFINITY PATCH 2023
FIFA 14 INFINITY PATCH 2023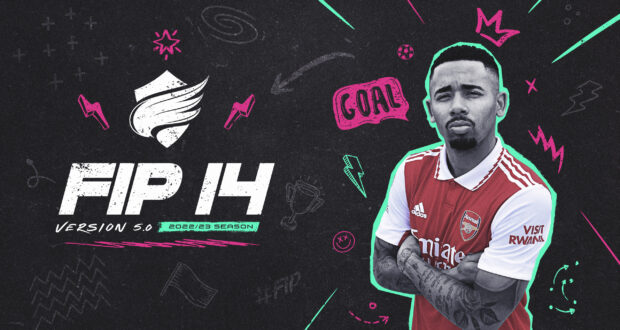 Harry BullZak and the FIFA Infinity Team have returned with arguably the best FIFA 14 mod ever made, FIFA Infinity Patch 14! The patch brings FIFA 14 up-to-date with the current 2022/23 season including new leagues, clubs, tournaments, players, and many other unique features.
It is strongly recommended that you use a clean install of FIFA 14 for this patch. This includes if you have previous versions of FIP 14 installed as the build has been refreshed for the 22/23 season. If you wish to customize available career mode tournaments using FIP Tournament Manager, you must do so before starting a new career!
CONVERTED FROM FIFA 23
-All leagues and teams including Chinese Super League, German 3.Liga, Romanian Liga I and Indian Super League.
-Squads (from 13th February 2023 squad file).
-Kits.
-Kit numbers and name fonts.
-Balls.
-Faces.
-Mini faces.
-Tournaments.
-Team, league and tournament logos.
-Finance.
OTHER
-All generic team names, tournament names, logos and kits replaced with real ones.
-Referee kits for some leagues.
-Real kit numbers for some teams.
-Realistic crowd sizes (by league).
-Real sleeve patches for UEFA competitions.
-New adboards.
-New boots with assignments.
-New balls.
-Simplified main menu.
-Alternate menu theme (apply using FIP14 Theme Manager).
-Improved EA management AI (reduces weak line-ups for opponents in career mode).
-Enhanced version of Revolution Mod 14 included.
FIP14 VERSION MANAGER
ST = Stadium Version
ALP = All leagues playable
FIP14 TOURNAMENT MANAGER
-Career mode compdata (default). Ability to edit available tournaments.
-Tournament mode compdata (additional tournaments in tournament mode, career mode will not work). Real or random group variations available.
FIP14 BOOT MANAGER
-Assign boots to players.
FIP14 GK GLOVE MANAGER
-Assign GK gloves to players.
FIP14 THEME MANAGER
-Choose between default or custom themes.
INSTALLATION GUIDE VIDEO
CLICK ON BELOW LINKS TO DOWNLOAD
---
Please these are Google Drive links so click on "Download anyway" on the next page to download.